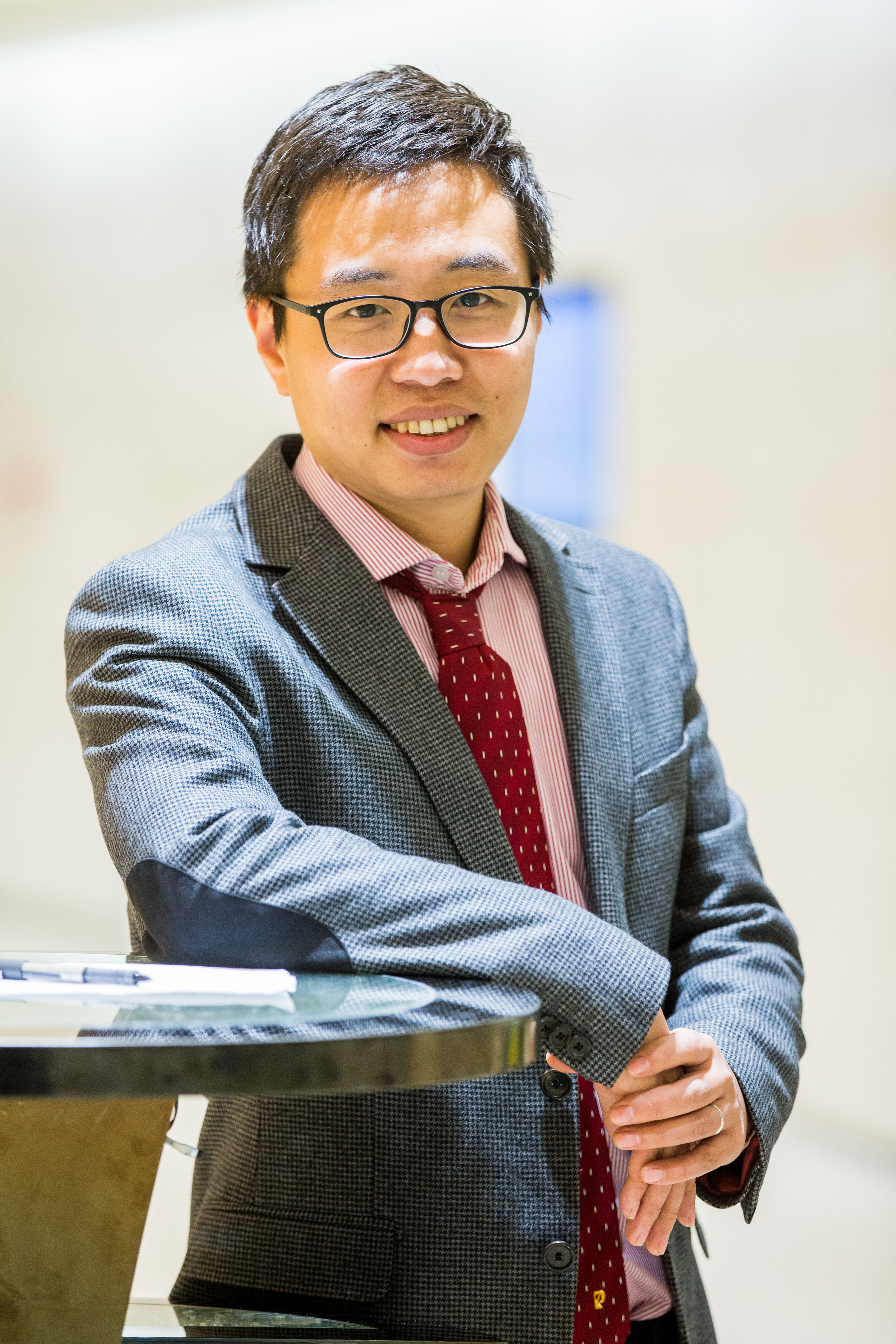 黄卓,博士,特聘研究员,博士生导师,现任北京大学药学院药理系副主任、党支部书记,天然药物与仿生药物国家重点实验药理学平台负责人。兼任神经精神药理学会委员、分子与生化药理学会青年委员、北京药理学会理事。2013年9月入选教育部新世纪人才支持计划并同时入选北京大学青年人才"百人计划"。
【简历】
1998—2002年毕业于北京大学药学院,获学士学位;
2004—2008 年毕业于英国University College London,获神经药理学博士学位;
2008—2013 年,英国University College London,博士后,神经药理学专业;
2013年至今,北京大学药学院 特聘研究员 主要从事离子通道药物筛选与确证、神经精神系统疾病新靶标发现、抗癫痫药物药理学的科研和教学工作。
【课题组主要研究领域】
神经细胞的兴奋性取决于细胞表面离子通道的亚细胞分布、表达数量及其生物物理学特征。神经细胞兴奋性失常会导致许多神经或精神系统疾病,如癫痫病,神经痛等。本研究组主要应用离体脑切片和整体动物模型,通过采用细胞体电生理记录(somatic patch-clamping)、树突电生理记录(dendritic patch-clamping)、双光子显微钙离子荧光成像(two-photon calcium imaging)及谷胱氨酸释放(glutamate uncaging)等技术以揭示离子通道在不同亚细胞结构中的表达水平及其功能,并探索其在特定疾病中的病理学变化。
【通讯方式】
北京市海淀区学院路38号北京大学医学部药学楼131室,邮编100191
电话:82805925(办公室);82805924(实验室)
Email:huangz@hsc.pku.edu.cn
【课题组研究方向】
1. 神经元微小结构中离子通道的表达、分布、调控及其功能;
2. 离子通道为靶标的药物筛选与临床前研究;
3. 神经精神系统疾病新靶标发现与确证;
【代表性论文】
1. Jin XQ, Chen Q, Song Y, Zheng J, Xiao K, Shao S, Fu ZB, Yi M, Yang Y, and Huang Z* (2019) Dopamine D2 Receptors Regulate the Action Potential Threshold by Modulating T-type Calcium Channels in Stellate Cells of the Entorhinal Cortex, Journal of Physiology, 597(13):3363-3387.
2. Liu YQ, Li MH, Fan MH, Song Y, Yu HJ, Zhi XJ, Xiao K, Lai SR, Zhang JL, Jin XQ, Shang YF, Liang J*, and Huang Z* (2018) CDYL-mediated histone crotonylation regulates stress-induced depressive behaviors, Biological Psychiatry, 85(8):635-649.
3. Zhang J, Chen X, K?rb? M, Zhao Y, An L, Wang R, Wang K, Huang Z* (2018) Anticonvulsant effect of dipropofol by enhancing native GABA currents in cortical neurons in mice. J Neurophysiology, 120 (3):1404-1414
4. Xiao K, Sun Z, Jin X, Ma W, Song Y, Lai S, Chen Q, Fan M, Zhang J, Yue W, Huang Z* (2018) ERG3 potassium channel-mediated suppression of neuronal intrinsic excitability and prevention of seizure generation in mice. Journal of Physiology, 596(19):4729-4752.
5. Li W, Liu J, Fan M, Li Z, Chen Y, Zhang G, Huang Z, Zhang L*. (2018) Scale-Up Synthesis and Identification of GLYX-13, a NMDAR Glycine-Site Partial Agonist for the Treatment of Major Depressive Disorder. Molecules. 24;23(5)
6. Liu YQ, Lai SR, Ma WN, Ke W, Zhang C, Liu SM, Zhang Y, Pei F, Li SY, Yi M, Shu YS, Shang YF, Liang J*, andHuang Z* (2017) CDYL suppresses epileptogenesis through repression of axonal Nav1.6 sodium channel expression. Nature Communications, 8(1):355.
7. Li X, Liu D, Ma Y, Du X, Jing J, Wang L, Xie B, Sun D, Sun S, Jin X, Zhang X, Zhao T, Guan J, Yi Z, Lai W, Zheng P, Huang Z, Chang Y, Chai Z, Xu J, Deng H.(2017)Direct Reprogramming of Fibroblasts via a Chemically Induced XEN-like State. Cell Stem cell. S1934-5909(17) 30185-6.
8. Huang Z, Li G, Aguado C, Lujan R, Shah MM. (2016) HCN1 channels reduce the rate of exocytosis from a subset of cortical synaptic terminals. Scientific Reports 7:40257.
9. Martinello K, Huang Z, Lujan R, Tran B, Watanabe M, Cooper EC, Brown DA, Shah MM. (2015) Cholinergic afferent stimulation induces axonal function plasticity in adult hippocampal granule cells, Neuron, 85: 346-363
10. Zhou J, Tang Y, Zheng Q, Li M, Yuan T, Chen L, Huang Z, Wang K. (2015) Different KChIPs compete for heteromultimeric assembly with pore-forming Kv4 subunits. Biophysical Journal, 108(11):2658-69.
11. Sun ZM and Huang Z* (2015) Progress in Research of Hyperpolarization-activated Cation Non-selective Channels and Antiepileptic Drugs Targeting the Channels. Progress in Pharmaceutical Science, 39(2): 98-104. (Invited review)
12. Huang Z* and Gibb A.J.* (2014) Mg2+ block properties of NMDA receptors in neonatal rat substantia nigra pars compacta dopaminergic neurones. Journal of Physiology, 592(10): 2059-78.
13. Shah MM*, Huang Z, Martinello K. (2013) HCN and K(V)7 (M-) channels as targets for epilepsy treatment. Neuropharmacology, 69:75-81. (Invited review)
14. Huang Z, Lujan R, Martinez-Hernandez J, Lewis AS, Chetkovich DM, Shah MM. (2012) TRIP8b-Independent Trafficking and Plasticity of Adult Cortical Presynaptic HCN1 Channels. Journal of Neuroscience, 32(42):14835-48.
15. Huang Z, Lujan R, Kadurin I, Uebele VN, Renger JJ, Dolphin AC, Shah MM. (2011) Presynaptic HCN1 channels regulate Ca(V)3.2 activity and neurotransmission at select cortical synapses, Nature Neuroscience, 14(4):478-86
16. Huang Z, Walker MC, Shah MM. (2009) Loss of dendritic HCN1 subunits enhances cortical excitability and epileptogenesis, Journal of Neuroscience, 29(35):10979-88.