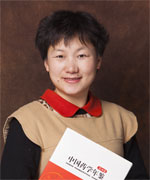 Ph.D
Research Areas:
Neuroscience
Neuropharmacology
Education & Positions:
Peking University Health Science Center, Lecturer, 2008-2018
Chinese Academy of Sciences, PhD, 2002-2008
East China Normal University, bachelor, 1998-2002
Faculty Accolades:
Beijing Higher Education Young Elite Teacher Project
Research Interests:
Dr. Xiling Bian is now trying to identify the ion channel-targets, selectivity and novel neurological functions of natural product.
Grants and fundings:
1. National Natural Science Foundation of China (81473189), (RMB 750,000), Principal Investigator
2. Beijing Higher Education Young Elite Teacher Project, Principal Investigator (RMB 150,000)
3. BMU2017MX021 sponsored by the interdisciplinary medicine Seed Fund of Peking University, co-Principal Investigator (RMB 80,000)
Selected Publications:
1. Xiling Bian*, Physiological and morphological characterization of GABAergic neurons in the medial amygdala, Brain Reserch. (2013); 1509:8-19
2. Limin Shi#, Xiling Bian#, Zhiqiang Qu, Zegang Ma, Yu Zhou, KeWei Wang*, Hong Jiang* & Junxia Xie*, Peptide hormone ghrelin enhances neuronal excitability by inhibition of Kv7/KCNQ channels ,NATURE COMMUNICATIONS, (2013), 4:1435(co-first author)
3. Zhenyu Hu#, Xiling Bian#, Xiaoyan Liu, Yuanjun Zhua, Xiaoyi Zhang, Shizhong Chen, Kewei Wang, YinyeWanga*, Honokiol protects brain against ischemia–reperfusion injury in rats through disrupting PSD95–nNOS interaction, Brain Reserch,1491,(2013) 204-212 (co-first author)
4. Xiling Bian, Kewei Wang Targeting voltage-gated Kv7/KCNQ/M-channel for therapeutic potential of neuropsychiatric disorders, Journal of Chinese Pharmaceutical Sciences, (2014), vol 23, pp 4-15.
5. Hui Peng, Xiling Bian, Fucui Ma, Kewei Wang, Pharmacological modulation of the voltage-gated neuronal Kv7/KCNQ/M-channel alters the intrinsic excitability and synaptic responses of pyramidal neurons in rat prefrontal cortex slices. Acta Pharmacol Sin. 2017 Sep;38(9):1248-1256.