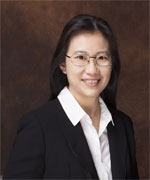 Ph.D
Research Areas
Pharmacology
Education & Positions:
Peking University Health Science Center, Assistant Research 1999-2004, Lecturer 2004-
Peking University Health Science Center, Doctor/ Pharmacology, 2014-2017
Peking University Health Science Center, Master/ Pharmacology, 2005-2008
Beijing Medical University, Bachelor/Pharmacology, 1994-1999
Faculty Accolades:
First prize of Natural Science in Universities (sixth adults) 2009
Excellent teachers of Peking University Health Science Center 2010, 2014
Research Interests:
Our field of research is mainly cardiovascular and cerebrovascular pharmacology, including myocardial ischemia, hypertension, drug therapy and neuroprotection of ischemic stroke.
Grants and fundings :
National Natural Science Fund (81503060) Project Leader (RMB185, 000)
National Natural Science Fund (81573333) Main participants

Selected Publications:
(1)Liu Xiaoyan, Chen Xiaoling, Zhu Yuanjun, Wang Kewei, Wang Yinye*. Effect of magnolol on cerebral injury and blood brain barrier dysfunction induced by ischemia-reperfusion in vivo and in vitro. Metab Brain Dis. 2017, 32(4):1109-1118.
(2)Liu xiaoyan, Hu Zhenyu, Chen Shizhong, Wang Jiancheng, Wang Yinye*. Protective effects of orally administered honokiol on cerebral ischemia reperfusion in rats and on stroke in SHRsp. J. Chin. Pharm. Sci. 2016, 25 (12), 882–89
(3)Hongfei Li#, Xiaoyan Liu#, Yuanjun Zhu, Ye Liu, Yinye Wang*, Magnolol derivative 002C-3 protects brain against ischemia–reperfusion injury via inhibiting apoptosis and autophagy. Neuroscience Letters. 2015, 588: 178–183
(4)Zhang Peng#, Liu Xiaoyan#, Zhu Yuanjun, Chen Shizhong, Zhou Demin, Wang Yinye*. Honokiol inhibits the inflammatory reaction during cerebral ischemia reperfusion by suppressing NF-κB activation and cytokine production of glial cells. Neurosci Lett. 2013, 534: 123-127.