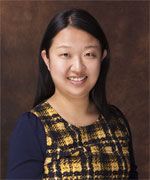 李颖博 助理研究员 liyb@bjmu.edu.cn
  教育及工作经历
  2001.09 – 2005.07 北京大学医学部,药学专业,本科
  2005.09 – 2007.07 北京大学医学部,药理专业,硕士
  2007.09 – 2011.08 澳门大学,生物医药专业,博士
  2011.11 – 今, 北京大学医学部,天然药物及仿生药物国家重点实验室
  研究领域
  1. 肿瘤耐受相关基因及调节机制
  2. 抗肿瘤、抗病毒药物筛选及作用机制的研究
  主持科研基金
  1. 国家自然科学基金青年基金:基于c-Met的靶向抑制联合放、化疗在结直肠癌治疗中的药效学评价及机制研究
  2. 教育部博士点新教师基金:多靶点抗肿瘤化合物EMB-3的机制研究
  代表性论文
1. Li YB1, Yan X1, Li RD, Liu P, Sun SQ, Wang X, Cui JR, Zhou DM, Ge ZM, Li RT. Discovery of novel heteroarylmethylcarbamodithioates as potent anticancer agents: Synthesis, structure-activity relationship analysis and biological evaluation.Eur J Med Chem. 2016, 112:217-230.
2. Li Y, Wang J, Gao X, Han W, Zheng Y, Xu H, Zhang C, He Q, Zhang L, Zhou D. c-Met targeting enhances the effect of irradiation and chemical agents against malignant colon cells harboring a KRAS mutation. PlosOne. 2014,9(11):e113186.
3. Li YB, Wang ZQ, Yan X, Chen MW, Bao JL, Wu GS, Ge ZM, Zhou DM, Wang YT, Li RT. IC-4, a new irreversible EGFR inhibitor, exhibits prominent anti-tumor and anti-angiogenesis activities. Cancer Lett. 2013, 28: 340(1):88-96.
4. Zhang J1, Li Y1, Fang X, Zhou D, Wang Y, Chen M. TPGS-g-PLGA/Pluronic F68 mixed micelles for tanshinone IIA delivery in cancer therapy. Int J Pharm. 2014, 476(1-2):185-198.
5. Li YB, Gao JL, Zhong ZF, Hoi PM, Lee SM, Wang YT. Bisdemethoxycurcumin suppresses MCF-7 cells proliferation by inducing ROS accumulation and modulating senescence-related pathways. Pharmacol Rep. 2013, 65(3):700-9.
6. Li YB, Gao JL, Lee SM, Zhang QW, Hoi PM, Wang YT. Bisdemethoxycurcumin protects endothelial cells against t-BHP-induced cell damage by regulating the phosphorylation level of ERK1/2 and Akt. Int J Mol Med. 2011, 27(2):205-11.
7. Li YB, Lin ZQ, Zhang ZJ, Wang MW, Zhang H, Zhang QW, Lee SM, Wang YT, Hoi PM. Protective, Antioxidative and Antiapoptotic Effects of 2-Methoxy-6-Acetyl-7-Methyljuglone from Polygonum cuspidatum in PC12 Cells. Planta Med. 2011, 77(4):354-61.
8. Li YB, Wang R, Wu HL, et al. Serum amyloid A mediates the inhibitory effect of Ganoderma lucidum polysaccharides on tumor cell adhesion to endothelial cells. Oncol Rep. 2008, 20(3):549-56.
  参与编写专著:
  Pharmacological Activity Based Quality Control of Chinese Herbs, Nova Science Publishers, Inc., USA, 2008. (ISBN: 978-1-60456-823-3)